RAPOSA is a robot for Search and Rescue (SAR) operations, designed to operate in outdoors hazardous environments, such as debris resulting from structure collapses. At this stage, the robot is equipped for search operations only, defined as the tele-operated detection of victims, using specific sensors, whose information is transmitted to the remote operator. The robot equipment (sensors) may be adapted to the specific needs. At the moment it includes 3 conventional cameras, one thermal camera, several explosive and toxic gas sensors, temperature and humidity sensors, inclinometers, artificial lights, microphone and speakers. The robot dimensions are length: 75cm, width: 37cm, height: 17,5cm and weight: 27Kg.
The robot is semi-autonomous, i.e., it is tele-operated via a wireless link from a remote console using a conventional GUI and a gamepad, but can simultaneously display the capacity to carry out short tasks autonomously. The robot can execute commands sent by a team of SAR experts, located in a safe place. During task execution, the robot is able to process the information from different sensors to the remote command station, so as to provide the human team with relevant information on its surrounding environment (terrain conditions, temperature, dangerous gases, water or heat sources, either from human victims or not). The robot has small dimensions and weight. It is tolerant to impact, dust and humidity and its all terrain capable, namely it can climb stairs. Moreover, it can be lifted by a cable, to facilitate deployment from a height (e.g., into a pipeline).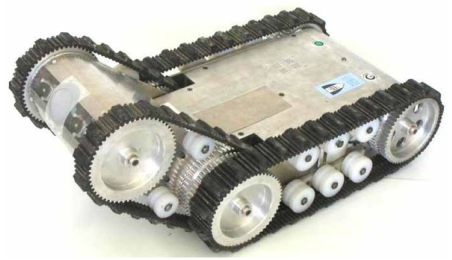 Research is currently being carried out with the aim of endowing RAPOSA with a higher degree of autonomy, meaning that certain operations requiring manual operation can be done autonomously by the robot. These include: autonomous stair climbing, autonomous docking, and preventive stop after hole detection. Moreover, human-robot interaction issues are also being tackled by improving the operator interface, namely exploring augmented reality techniques.
IdMind designed a new version of RAPOSA for commercial purposes, named RAPOSA NG (Next Generation). This new RAPOSA integrates most functionalities from its predecessor and serves the same purposes. It has sensor detection of explosive gases, toxic gases, temperature and humidity, as well as vision sensors (two conventional cameras at the frontal body, one backyard conventional camera and thermal camera forward) and inclinometers.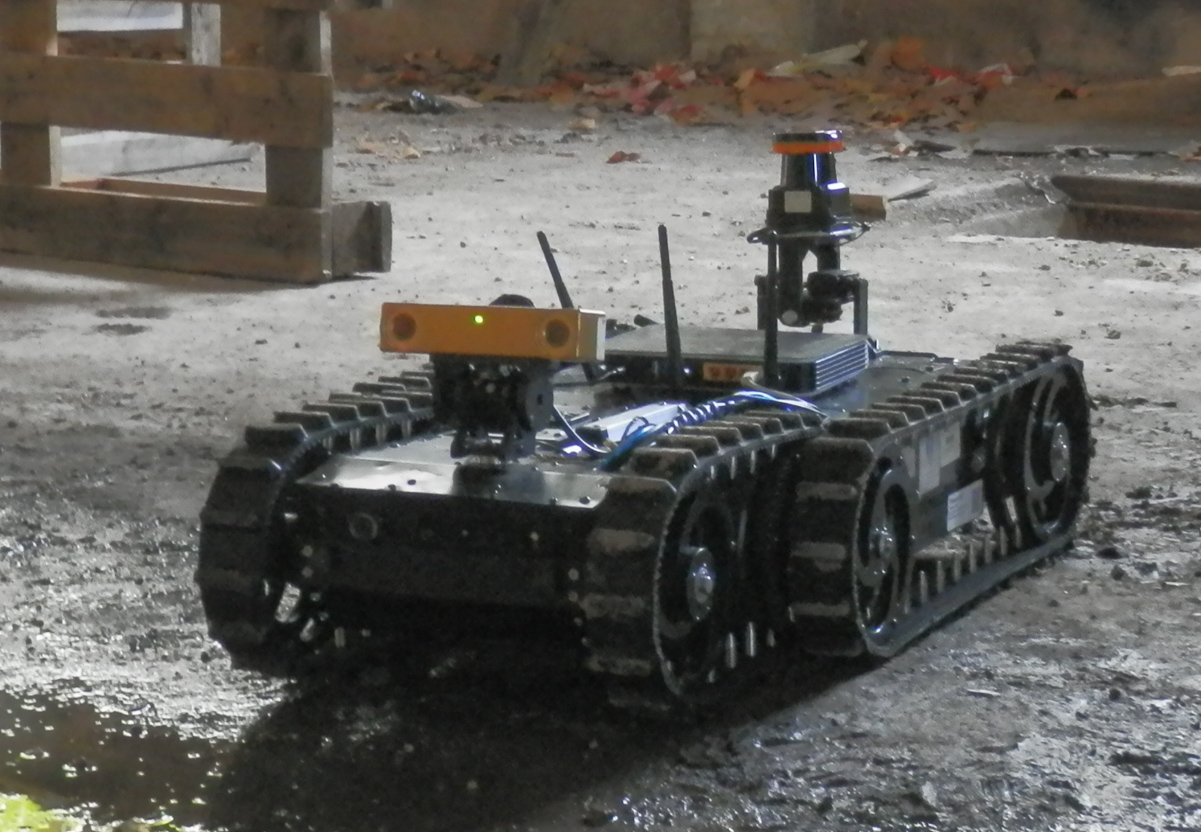 The robot dimensions are length: 84cm, width: 47cm, height: 18cm and weight: 17Kg (without batteries).
ISR has in its possession one RAPOSA NG without most onboard equipment from origin, besides its body and thacked wheels. When acquired, it came with:
2 Maxon 150W DC motors for differential drive (one for each track);
Firgelli Automation DC motor to tilt the front body;
2 electronic boards:

Motors encoding;
Relay board to control and redirect power supplies;
The following components are currently installed:
Commell LV-679: A Mini-ITX Motherboard with

Intel Core 2 Duo 1.6Ghz 4Mo 800Mhz Processor;
2 Kingston 1GB 667Mhz DDR2 RAM;
Intel PRO/Wireless LAN 2100 3B Mini PCI adapter;
Kingston SSDNow V Series 64GB.

Point Grey Bumblebee2: A firewire stereo camera system;
MicroStrain 3DM-GX2: An IMU with triaxial accelerometer, triaxial gyro, triaxial magnetometer, temperature sensors, and an on-board processor;
Past Research Members
Filipe Jesus (MSc student)
Pedro Vieira (MSc student)
João Reis (MSc student)
Henrique Martins (MSc student, 2009)
Jorge Ferraz (MSc student, 2009)
Fausto Ferreira (MSc degree, 2008)
Manuel Jansen (IAESTE internship, 2009)
Nuno Marques (MSc student)
João Viana (BII scholarship)
Nuno Santos (BII scholarship)